You'll love this…
… a lot.
Combos… no, not pancakes and syrup. It's even better than that.
I'm talking about combining two exercises in one.
It's not a squat and a pushup… although, that would rock, right?
It's gotta' be combination moves that "flow" well.
For example, the burpee. The burpee alone works so many muscles at one time. But when you add a new dynamic to it, you'll even get MORE out of it.
So, you'll combine the burpee with another exercise…
Here's one example:
The Burpee/Spiderman Pushup Combo

You'll replace the regular pushup inside the burpee with a Spiderman Pushup instead. Check out the photo below…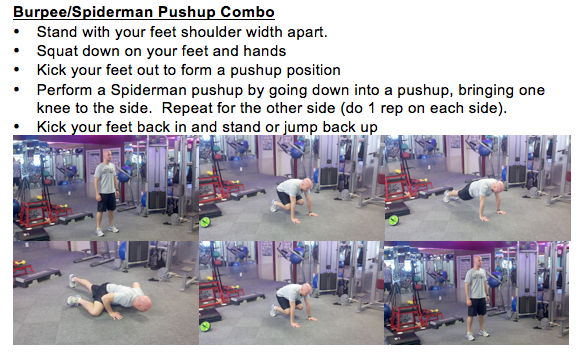 Here's another one… the Spiderman Climb Sprint to Start.
Here it is:
Alright, the Spiderman Climb Sprint to Start: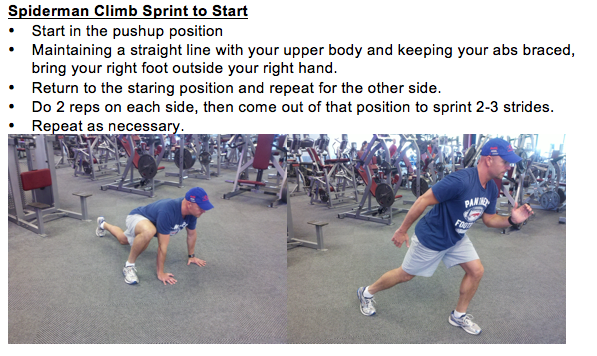 Now let's do a fun conditioning circuit with those…
Make sure you do this after your main strength session.

Burpee/Spiderman Pushup Combo (8)
Jumping Jacks (20)
*Spiderman Climb Sprint to Start (8)
Rest 1 minute and repeat 2 more times
* You'll complete 2 Spiderman Climbs per side, then take 2-3 strides. That's one rep. Drop down and do the Spiderman Climb, etc.
Now, you must do a finisher.
Not only are all the cool kids doing it, but you'll burn more fat and improve your overall fitness using them.
But it's time you and I change up the way we train…
… even if it's just the finisher. We can take baby steps… together.
I want you to step out of your comfort zone… and I mean WAY out. I want you to discover a NEW way of training… something I recently discovered that has given me renewed energy.
And these days, I'm yearning to get to my workouts. I wasn't like that until a few weeks ago.
You see, I was in a rut myself until I changed up my routine recently using a single Kettlebell.
That's it… just ONE single Kettlebell.
It was due to two people I constantly communicate with. It's Chris Lopez and Geoff Neupert.
Chris Lopez actually showed me the ropes on how to do the "key" moves" using Kettlebells, including the KB Swing and KB Snatch.
Here's a pic from the Turbulence Training Master Trainer Event:
(I'm the tall guy in the middle
Chris is an amazing teacher, and after that weekend, I got what I call, "KB Swagger".
But the KB can be overwhelming… so, like I said, we'll just use a KB for our finisher. Cool enough?
Here's one directly from his manual coming out next week… (and I have some bodyweight bonuses that go with it – stay tuned)
"The Gut Check" KB Finisher

1-Arm Swing (Left Arm) x 15
Mountain Climbers x 20
1-Arm Swing (Right Arm) x 15
Opposite Hip Touch x 20
1-Arm Swing (Left Arm) x 15
Side Plank Left x 20 seconds
1-Arm Swing (Right Arm) x 15
Side Plank Right x 20 seconds
-Rest of 90s after completing.
-Repeat the above protocol 1-3 times for a total of 2 to 4 rounds.
I think it's time you discover your own KB Swagger… and next week, I'll help you find it
Mike Whitfield, CTT